Chicago Hotel Activations
Winter Activations
Join us for a #MomentOnTheMile this winter at one of our weekly activations on property. From jazzy nights, to having your very own permanent bracelet with Ellie K. & Co., and our always popular dive in movies for the family, we have it all waiting for you at the InterContinental Chicago Magnificent Mile!
Thursday's
5:00 PM-8:00 PM AT THE HOTEL LOBBY
Join for this limited time activation in our lobby and get your very own permanent piece of jewelry from one of the pro's in the jewelry business, Ellie K & Co.
Last day in our lobby for Ellie is 2/23
Learn More
Thursday's
5:00 PM - 7:00 PM AT THE HOTEL LOBBY
Chicago's known for being the epicenter of great Jazz and iconic architecture – and we have both! Join us every Thursday in our historic lobby for some toe-tapping live jazz and crafty cocktails at our 'Bathtub Gin Bar'. Special Valentine's Day Jazz Night on February 14th, 2023.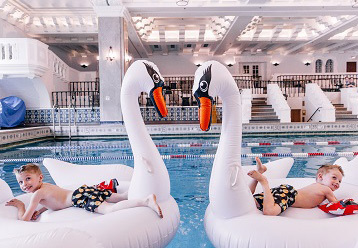 Friday's and Saturday's
6:00 PM - 8:00 PM AT THE FITNESS CENTER POOL
The seasons may be changing but its always warm in our pool! Dive in to a weekend of family fun at our poolside movie nights. Every Friday and Saturday, enjoy family - friendly movies, refreshments, snacks, and larger than life floats.
Dive in movies are for guests of the hotel only.